(image via hip hop rx)
CNN
has the news
that newest "Real Housewives of Atlanta" cast member
Kandi Burruss
' on-again/off-again fiance
A.J. Jewell
, the one with five hundred baby mamas, died after a fistfight at a club: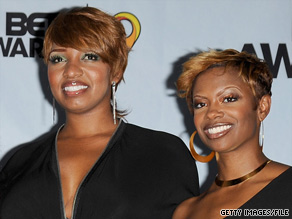 Kandi Burruss, at right with co-star

NeNe Leakes

, appeared at the BET Awards in June.
He said police arrested a suspect, whom he wouldn't identify, on a charge of voluntary manslaughter. After the suspect was identified by witnesses at the scene, he voluntarily went in for questioning, Polite said.

He said police didn't know why the men fought.

Burruss has posted messages about her sorrow on Twitter.

"im just in one of those moods where i dont wanna talk, i dont wanna b held & told its gonna b ok. i just wanna cry myself 2 sleep, alone," she says...

Burruss is an award-winning singer-songwriter and former member of the 1990s R&B group

Xscape

.
Well, the only person who will probably be ok with this tragedy is Kandi's mother, who despised A.J. and was vehemently opposed to their getting married.
Web site
Hip Hop RX
says that:
A suspect has been arrested in the death of...Ashley 'A.J.' Jewell who died after sustaining injuries to the head during a fight at a club in Atlanta, GA.



Fredrick Richardson

, who also sustained injuries from the fight, was arrested and charged with voluntary manslaughter after getting into a brawl with A.J. Jewell on Friday night at the Body Tap in Atlanta, GA outside of the strip club which may be co-owned by Jewell, according to unconfirmed sources.

Jewell... received scrutiny from many onlookers, as well as Kandi Burruss' mother, during the show due to Jewell having six children. As reported on HipHopRX.com back in March, Kandi Burruss came to A.J.'s rescue after many blogs and commenters throughout the Internet called him a scrub and made statements that she had to take care of him.

In her radio interview, Kandi stated,"I try not to read too much of it, but I know they were talking about my fiance. Making him look real bad, like he's a dead beat dad, he ain't got no job. And it's not true."

Reportedly in August, the two called off their wedding and relationship to give each other a break to sort out personal issues, however the two remained friends.

Meanwhile, authorities are being whist on what may have caused the fight between the two as they are continuously interviewing witnesses who were there on the scene.
Oh, the irony of the co-writer of
TLC
's hit song "No Scrubs" being dragged down by her own personal scrub! I always wondered what his appeal was to her. He spent almost every second of his screen time with her texting on his phone and had 1,000 children with different women.
The drama on "RHOA" just never stops, does it?