Here's a lil' tidbit to help you get through your day:
Brandon Davis
, the puffy, repellent, oily-haired-and-faced oil heir who seems to have no reason to exist other than making an ass out of himself, is going broke. According to
Page Six
:
OILY heir Brandon Davis appears to be running out of reserves. Though he made fun of

Lindsay

"Firecrotch"

Lohan

, scoffing that she "only" had $7 million, the grandson of supposed billionaire

Marvin Davis

bounced a $10,000 check he gave to "Girls Gone Wild" creator

Joe Francis

, and he's also said to owe record producer

Scott Storch

and The Palm casino owner

George Maloof

.

Other clues the Davis clan isn't as liquid as was believed: Brandon's aunt,

Patty Davis Raynes

, is suing the family for more inheritance; his grandmother,

Barbara

, sold the family's estate in Beverly Hills for close to $42 million; and sources say

Nancy Davis

(Brandon's mom) is quietly selling her Bel Air home for around $15 million.

Before Brandon told Page Six, "[Bleep] you," and hung up, he explained that his check had bounced because he was switching banks and that he'd paid Francis back in cash (which Francis denies). The check, a copy of which was obtained by Page Six, states it was refused for "insufficient funds."

The family still has enough money for a spokesman, who told us, "There is no truth to these rumors." But he wouldn't comment on specific allegations.
Tee-hee-hee! Tra-la-la! I hate to giggle at other people's misfortunes--
in general
--but it's hard not to be filled with delight at the prospect of a douchebag like Brandon Davis bouncing checks to sleazeballs like Joe Francis. It's all too, too wonderful! And may I point out once again that his maternal grandfather was Marvin Davis, so--just like those retarded
Gotti
boys--he should have his
father's
last name, not his mother's? Using your family name in such a grasping, obvious way is just the tackiest thing in the world (next to calling Lindsay Lohan poor for only having $7 million dollars, that is)...
(At least the guy lucked out in the gene pool department. He could've inherited his grandfather's famously massive girth, which instead went to his flamboyantly odd brother.)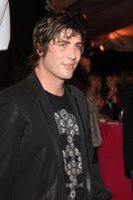 Brandon "Davis"
Jason "Davis"